Why Design Suite?
If your hands are full with cross-disciplinary projects, you need a product suite that can do anything. With cutting-edge technology to create detailed BIM models, expansive sites, and memorable live events, Design Suite has everything you need to design without limits.
Pay Less for More
Design Suite is the most cost-effective way to purchase multiple Vectorworks products, so you won't have to sacrifice the tools you need. Whether you purchase a subscription or perpetual license, you'll see the same savings.*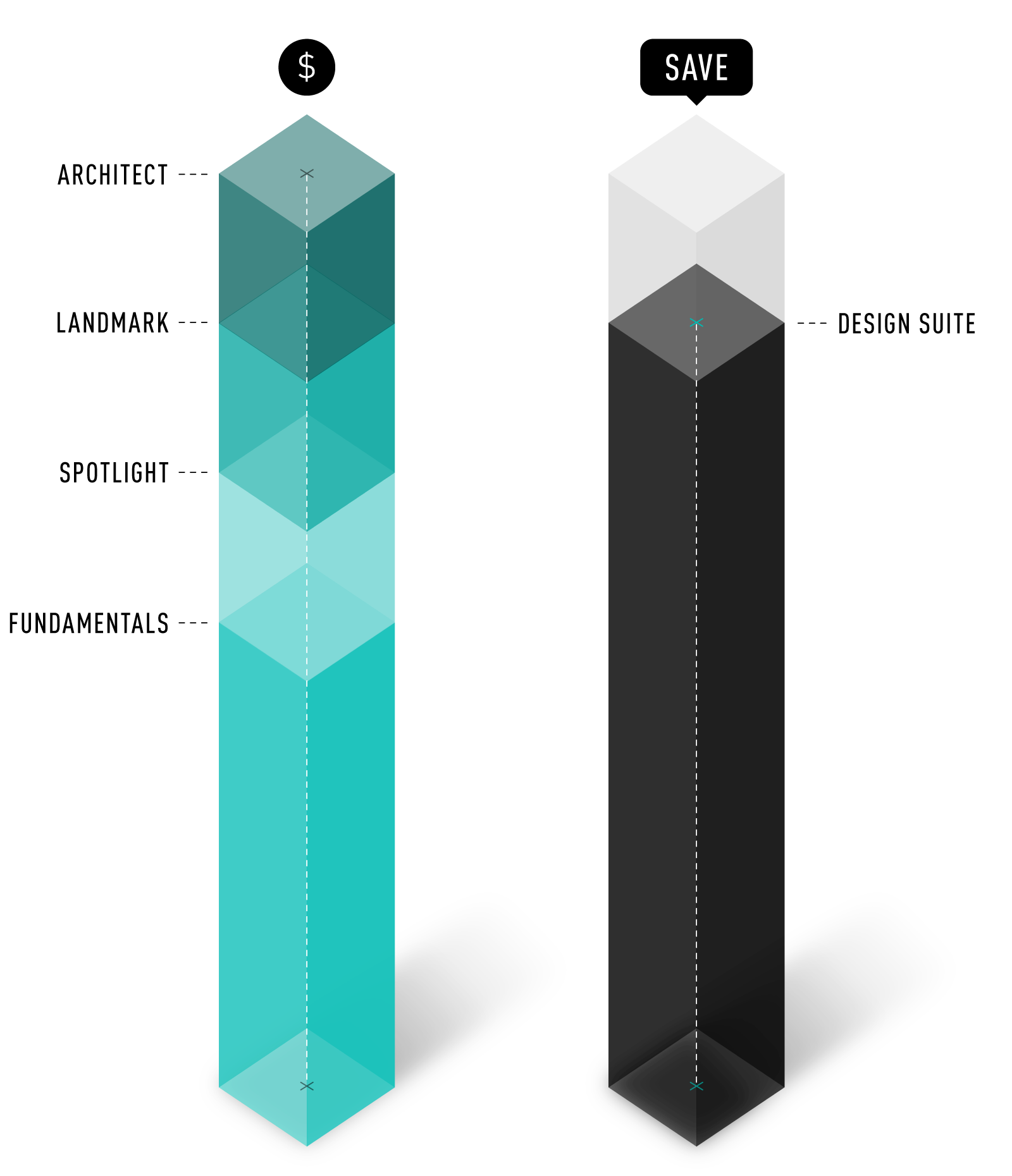 What's in Design Suite?
Built on Vectorworks Fundamentals, Design Suite has all the capabilities of Vectorworks Architect, Landmark, and Spotlight in one software interface.
AICB | Courtesy of GDP Architects SDN BHD and Adaptus Design System SDN BHD
Vectorworks Architect
The versatility to support your project at every stage — easily transition from massing models to BIM models to construction documents. Our design-centric BIM workflow brings everything together and increases your efficiency.
Explore Architect
Vancouver Convention Centre | Courtesy of PWL Partnership Landscape Architects Inc
Vectorworks Landmark
With intelligent objects, powerful databases, and flexible documentation features, Landmark streamlines 2D and 3D landscape workflows. It's the only comprehensive BIM software made specifically for landscape architects and designers.
Explore Landmark
One Third Beijing  |  Courtesy of Live Legends
Vectorworks Spotlight
The professional design platform that sets the standard for the entertainment industry. Choose from a huge library of lighting, audio, video, scenic, and rigging manufacturer content to create light plots and automate paperwork to meet tight deadlines.
Explore Spotlight
Hamilton: The Exhibition, Legacy Gallery  |  Courtesy of Korins and Drew Dockser
Vectorworks Fundamentals
Freely sketch, model, and document your design ideas with precision drafting capabilities and the most flexible 3D modeling engine available, powered by SIEMENS Parasolid. You're not limited by presets and strict parameters — you have the flexibility you need to design anything you can imagine.
Explore Fundamentals
Vectorworks Design Suite does not include Braceworks, ConnectCAD, or Vision.