BIM Software for Every Design Phase
Phase 1: Pre-design
With more support for common file formats than any other BIM solution, Vectorworks Architect can pull together all necessary information to start your project, providing everything you need for conceptual design, site planning, and analysis all in one interface. Quickly confirm design intent while transitioning from massing models to concept models.
Play Video
Phase 2: Schematic Design
Foster your creative vision with intuitive drawing tools supported by a flexible and easy-to-use modeling engine that's perfect for space planning and programming. Easily transition from massing models to a BIM model, visualize concepts with integrated 3D rendering, and share high-quality graphics with your entire team through Vectorworks Cloud Services.
Play Video
Phase 3: Design Development
As project detail increases, Vectorworks Architect facilitates smooth consultant coordination and aids cost estimation — all while refining design decisions. Intelligent information modeling keeps data exactly where you need it and ensures painless data reporting.
Play Video
Phase 4: Construction Documentation
Using 3D data-driven tools from project inception maintains model quality while making construction documentation a breeze. Vectorworks Architect's BIM tools means updates to your model automatically updates documentation. Collaborate with anyone without compromising your design process with the software that supports your entire project lifecycle.
Play Video
CD
Construction Documentation
Imagine it. Design it. Document it.
BIM software isn't exactly known for promoting creative expression. But Vectorworks is different. We allow you to freely sketch, model, and document your design ideas with precision drafting capabilities and the most flexible 3D modeling engine available, powered by SIEMENS Parasolid. So you're not limited by presets and strict parameters — you have the flexibility you need to design anything you can imagine.
Play Video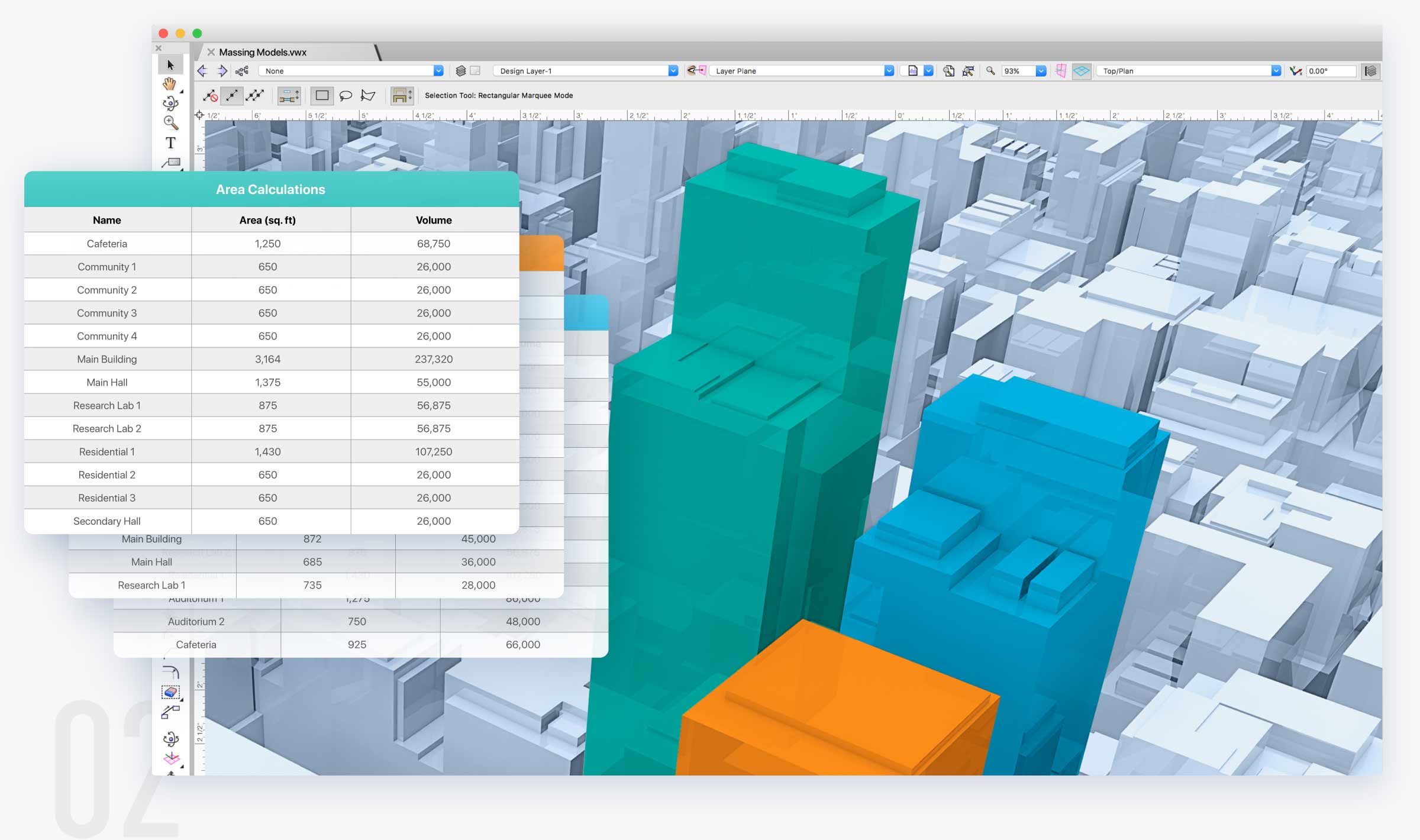 Maximize the I in BIM
Getting the most out of the "I" in Building Information Modeling is essential for optimizing your designs. Vectorworks makes it easy to quantify and analyze information as early as the schematic design phase so you can make smart decisions. Run "what if" scenarios and automate schedules, calculate costs, analyze energy efficiency to maximize each design element.
Play Video
Work with Anyone
Vectorworks allows you to easily collaborate and share files with colleagues, consultants, and clients. We offer the most default import/export capabilities available, as well as support for openBIM and IFC, and direct links with Revit®, SketchUp®, Rhino®, Photoshop®, and Cinema4D.
查看功能
Play Video
Stay ahead of the curve
We're advancing the use of emerging technologies and making them accessible to everyone. You won't merely keep up with the latest technologies, you'll stay one step ahead.
AR/VR

Point Cloud

Photogrammetry

Cloud Services

360 Panorama
Win More Work
With an extensive suite of drawing, illustration, and rendering tools, Vectorworks allows you to produce remarkable line drawings and stunning 3D presentations so you'll impress even the toughest of clients. You can even create an immersive presentation experience with cutting-edge technology like virtual and augmented reality and rendered panoramas.
You're in good company.
Discover how respected firms, design innovators, and award-winning architects around the world use Vectorworks.
Social Housing in Tallaght's Unusual Conditions
Sean Harrington Architects | Dublin, Ireland
The Evocative Renderings of West Highland Design | A Study in Switching to Vectorworks
West Highland Design | Seattle, WA
High on Sustainability: Modern Design in the Alps
Bearth & Deplazes Architekten AG and ETH Zürich | Switzerland
Residential Architecture and the Pathway to BIM
A&Q Partnership | United Kingdom, Hong Kong
2020 Jury Winner
ARCHITIZER A+AWARDS
2020 Best of Products Honorable Mention
ARCHITECT'S NEWSPAPER
2019 Best of Show
Architosh
2019 Popular Choice
Architizer A+Awards